My Relationship w/the Twilight Saga
Since the last Twilight film came out this past November I feel that a blog post detailing my relationship with this incredibly popular, sparkly saga is necessary. It's an interesting tale to say the least.
Now, lets go back six years ago, back when I was just a little naive 13-year-old girl...
2006:
It was in the spring, a couple months before my 14th birthday. I was an eighth grader at Crossler Middle School, sitting in my advance literature class. It was presentation day. The project was to read a book of fiction and then sit on a chair in front of the entire class, summarizing that particular book we had read. My fellow classmates went into a comatose state during my presentation of
The Sisterhood of the Traveling Pants
and I'll have to admit... the presentations were pretty boring, except for when my crush sat in the chair and also when Kelsey Whiteside discussed an interesting book about a girl who falls in love with a vampire called... wait for it...
Twilight.
This is when I first became intrigued.
2007:
Near the end of the year, I was 15-years-old, a sophomore at Sprague High School. I took English with Ms. McLean and absolutely fell in love with the subject. I had just finished up reading the Harry Potter series, but other than that I wasn't a big reader (I know, hard to believe now, but it's true). That year we had to read several books of our choice and I chose
The Book Thief
, which was one of those books, like Harry Potter, that made reading fun and made me want to read more.
I saw a lot of people reading
Twilight
and its sequels. Several of the ones I asked about the book told me this:
I never read books, but this series is so addicting!
So, again, I was intrigued.
It wasn't until my friend Sabrina McCarthy told me I
had
to read the books that I decided to do so. I bought
Twilight
from my local bookstore, the Book Bin, and devoured it! I read it on a flight to Sacramento and it honestly made the flight seem like it had only taken 5 minutes.
Here are some of the reasons why I think I loved this book so freaking much:
Big font.
First person narration.
Wasn't the typical vampire book.
It was a love story and I hadn't really read one before. I was 15. I hadn't fallen in love or even had the slightest idea of what it was like to fall in love yet, but after reading Twilight, I thought I did (which is so embarrassing to admit).
Edward was perfect.
Bella describes herself as not being perfect and I obviously saw myself that way too (not that I see myself as being perfect now, but I definitely have a higher esteem now than I did then).
Stephenie Meyer is Mormon and I grew up Mormon too.
The story came to her in a dream.
She never wrote anything before this.
After the first book, I was hooked. Sabrina let me borrow New Moon after that, warning me ahead of time that I would need a box of tissues while I read. I never cried, but I was certainly frustrated beyond belief! Edward went missing for over a hundred pages of the book. I was like: No way, this is not happening! I liked Jacob and all, but I seriously wanted Edward back. Hahaha.
Immediately after finishing the sequel, I started the third book in the series Eclipse and yep, once again, I devoured another one of Stephenie Meyer's vampire books. In this book, I was so torn between Jacob and Edward. I thought the whole werewolf and vampire conflict was genius and super interesting. I had my suspicions on who Bella would end up with, but I wasn't 100% sure, which, honestly, was the fun part of the experience.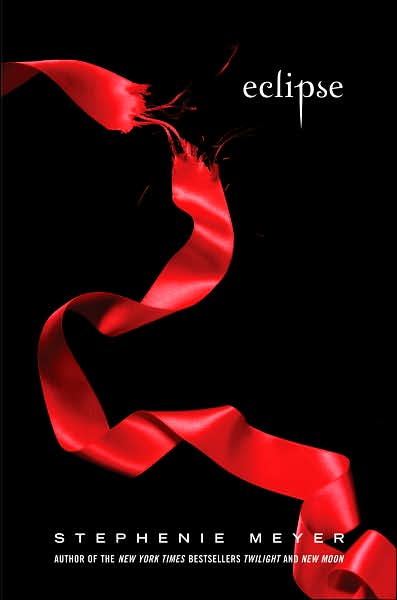 Another part I enjoyed about reading these books was that nothing was ever spoiled for me. Everything was a surprise and that's how every reading experience should be!
I became obsessed with Stephenie Meyer's website, checking for movie updates every single day. What I loved most about her as an author was that she had a playlist for every book she wrote and since I was an aspiring author this intrigued me (the word "intrigued" is getting rather redundant isn't it?). Listening to the playlist was like experiencing the emotions of the book in a whole other way. It was so much fun!
Also! Also! And here is the best part, she introduced me to the band MUSE. I freaking love Muse and I probably would not have known of their awesomeness until years later if it hadn't been for Stephenie Meyer. That goes for several other bands as well. I know this is kind of weird, but back then I actually didn't know what kind of music I liked. I didn't have a favorite band or even knew what genre I liked. Honestly, I wasn't as musically educated back then as I am now.
I should also note that I began writing my novel that I now have finished and am working on getting published back in the spring of 2008. It was a much different book back then. I was obsessed with Twilight at the time and it definitely showed in my writing.
Then, on August 2, 2008, I bought Breaking Dawn. I was actually in Northern California at the time. I had my aunt drive me to her local Barnes and Noble and as we approached the parking lot and I saw the poster I gasped really loud, which made my aunt slam on the breaks, which made my little cousin Melissa spit out her hot chocolate against the window. It was hilarious and disgusting at the same time.
I had mixed feelings about Stephenie Meyer's fourth installment. It started off well and then got super bizarre/ disturbing and boring. I mostly just wanted to forget the book ever existed, for many reasons, but mainly for this one:
"Bella and Rose want this child to be born, and there is nothing Edward can do about it, except ask Jacob to have sex with his wife.
You'll probably need a moment to absorb that information. Go ahead and stare out at the lake. It helps.
Using Edward-Logic, if Bella can have a safe baby with Jacob, she might be willing to get rid of the demon baby currently living in her guts. Edward wants to pimp out Bella to Jacob. He wants Jacob to have sex with her, and give her a child, a child that won't kill her. He wants his wife to make sweet love to another man. And, according to Edward The Wise, this should solve all their problems.
This doesn't make sense. It doesn't even make Twilight-sense. How would this make Bella feel better? She wants the child that's in her guts right now. She doesn't want any other baby."
That year the movie came out too (I know, big year) and I was SUPER excited. I'd never been so excited about a movie before. Like I checked movie updates every day and screamed, literally screamed when the trailer came out. I remember telling my dad: This is going to be huge!
At which point, he responded with: That's what she said.
I remember freaking out big time at this trailer, especially when I heard Edward (played by Robert Pattinson) say: What if I'm not the hero, what if I'm... the bad guy?
On October 14th, 2008, I had my first back surgery and I remember thinking: I hope this surgery doesn't kill me because I can't die without seeing Twilight first!
Clearly, I was delusional and obsessed with the series at the time, so much so that I blurted out absurd things like: Twilight, the movie, is going to be so good that it will win Oscars!
I know... I know... trust me, this is embarrassing to admit.
So, finally, November 21, 2008 came around and I got all dressed up in my Edward Cullen shirt (with my plastic back brace strapped around my ribs beneath my shirt) and went to see a matinee showing at the Lancaster Mall with my dad. Before we went to the movies we went out to lunch at Applebee's first and I heard these two twenty-year-olds, sitting next to us, talking about how terrible the movie was. I tried not listening to them anymore, but I couldn't help it. This scared me, but...
....they were right.
It was AWFUL!
I hated Kristen Stewart's dull acting. She is supposed to be in love and acts like she's super bored and has turrets (which is not meant to offend anyone with that syndrome).
I also hated Catherine Hardwicke's directing style. It felt like a documentary and it was supposed to be this epic romance! Gaaaaaaaaaaaah!
And! And! Once I finally heard the words from the book spoken aloud I finally understood how cheesy this series was and how stupid Bella was. It hadn't occurred to me until then.
Alex Day also helped me realize just how ridiculous this series is...
2009: November 20th... The Twilight Saga: New Moon had its theatrical release and I went to see it late at night with my dad... of course. The theatre was packed. Literally every seat was taken! It was funny because when the movie began it started off with this huge sort of brownish tinted moon and my dad leaned over to me and asked: Are we in the right movie theatre?
My thoughts:
I want to go to Italy!
Way better cinematography than Twilight.
Chris Weitz is an awesome director!
I've changed my alliances. Team Jacob it is!
Kristen still stinks at acting...
I actually liked New Moon so much I saw it three times. Once with my dad, once with my friend Sara Hoffman, and once with my cougar nanny Arlette.
2010: May 3rd of that year I had my second back surgery at Stanford's Children Hospital, but before my surgery I bought a cardboard cutout of Jacob Black. I wanted him to stay in the hospital room with me so that he could scare the staff members and he did and it was awesome. Hahaha. I am so evil. I love my life size Jacob Black. He's still in my room wearing a vampire cape and his visitor's sticker from the hospital that says: Hello My Name is Jacob Black. Delaney Plant came over one day with her cousin and they both asked if they could rub his stomach, so... I let them.
Jacob with my Nana. ;)
June 11th: I graduated high school.
June 30th: The Twilight Saga: Eclipse came out. I saw it with Sara Hoffman at the Independence theatre.
My thoughts:
Gah! Too many close-ups.
The music (not the score) was poorly edited in.
They totally screwed Muse over.
Kristen's wig sucks.
Edward is super unattractive in this film. The makeup department failed big time on this one.
Hi Jacob. *giggles*
Bella is a slut.
I liked the old Victoria better, I don't know why they had to change her.
Not a big fan of David Slade's directing style.
I like the pretty mountains.
The tent scene was hilarious.
This whole series is just a freaking soap opera with vampires and werewolves.
Kristen still stinks at acting...
2011: November 18th. I was a study abroad student in Florence, Italy; this is where I saw the film. My friends and I saw it in an old theatre; there were Italian subtitles and the film actually stopped for intermission, which freaked everyone out.
My thoughts:
Edward is gorgeous.
This is weird.
This is gross.
Ewe.
Jacob is a pedophile.
The wolves talking together are cheesy.
Kristen still stinks at acting...
Thank goodness I have videos like this to cheer me up after a ridiculous movie.
2012: November 16th. It's finally over. The Twilight Saga: Breaking Dawn Part 2 finally comes out! I saw it with Erika and since I just go to these movies expecting it to be ridiculous--that mindset makes it much more enjoyable. It was a really fun day. Erika and I went out for Vietnamese food first and then drove to the movies. The funny part was that there was this group of girls with their boyfriends and an extra boy with no date who kept shouting out "This is vulgar" during the film. It was hilarious.
My thoughts:
Bella seems more alive as a corpse.
Bella is a terrible mother.
Jacob... you are gross.
Edward, you are beautiful.
The sex scene was awkward and creepy. I've been scarred for life.
Reneesme's CGI face is scary.
Mackenzie Foy is a cute little girl.
I like Bill Condon's style.
The fight scene at the end has a nice twist. Good job. Only part I really liked.
Kristen's acting still (I'm sure you can fill in the rest)...
Now it is finally over! Hurray! Let's all celebrate.
But really, I have to thank Stephenie Meyer because it was her books, along with Harry Potter and The Book Thief that made me the avid reader I am today. Without, Stephenie Meyer I wouldn't have discovered Muse as early as I did or The Hunger Games. Thanks to her great review, I got Suzanne Collins's book the month it came out and now (right underneath The Fault in Our Stars by John Green) it is my all-time favorite book ever!
Thanks to Stephenie Meyer we now have Fifty Shades of Grey! (Just kidding, that's not something I'm thrilled about.)
Well, there you have it! My six year relationship with The Twilight Saga... it has finally come to an end. Yay!
Blog to you later!
Love,
Manders
P.S.
Here is my favorite video of Rob. It cracks me up! He clearly hated being Edward.